This was actually the first Todd's Taco night to feature a brewer with a special taco paired with a rare beer or newly released beer. We featured Rob Tod of Allagash Brewing Co.

Previously, I did a quick write up about Todd's Taco Night Feat. Fluffy White Rabbits from Pretty Things. But that was actually our second adventure with Todd's Taco night at Green Street.




The feature for Allagash was Bi-Curieux paired with a fried oyster taco with a remoulade. You got a 6oz pour of the beer plus a fried oyster taco for $3.99. That's the way Todd's Taco night works. A generous pour of the beer and a taco for a low, low price.

Bi-Curieux is a super rare beer that was made by barrel-aging Curieux, a Belgian-style tripel with local hops for a year and half. This was one of the last barrels around.
Chef Greg Reeves really out did himself with this taco pairing. He hadn't even had the Bi-Curiuex, but was able to really nail it by pairing it with a fried oyster taco. The sweet oysters and sweet malts played around while the hops cut through the remoulade. It was very fresh tasting and delicious for being one of the last kegs floating around.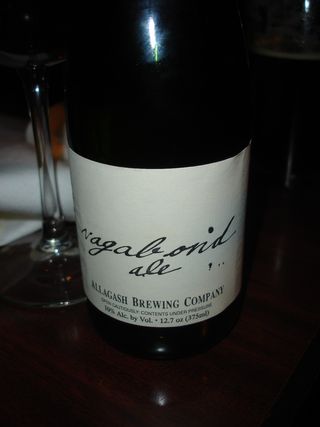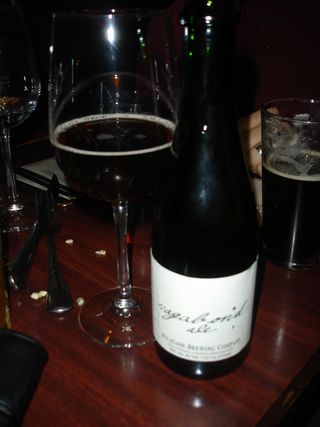 Also on hand was Vagabond, 2008 Interlude, and Allagash White.
Supporting friends of Allagash and BeerAdvocate.

Adam Fisher, BA Festival Captain and dan Kaldak, BA Festival Volunteer. Will Meyers Brewmaster Cambridge Brewing Co., Matt McGrath, BA Festival Captain. I don't know the person in the green shirt.
Trevor Kliner BA Festival Volunteer. Rob Tod, Allagash Brewing. Co. Aaron Mateychuk, Brew Master Watch City Brewing Co. and some punk ass photo bombers in the background.

JC Tetreault, BA Festival volunteer and long time BA member. Danny V. of VeeVee in Jamaica Plain.

Shawn Dunn, Global Brewers Guild and Dan Kochakian, Ale Street News. Marc Leuchner, BA Festival Captain.
Angelo Scarnera looking quite happy being surrounded by sour and wild ales. Jason Alström, Todd Alström, Co-Founders of BeerAdvocate.com with Ken Pajak of Cafe Amsterdam in Anchorage, Alaska and Angelo Scarena, good personal friend to BeerAdvocate and myself.
And this was my happy little collection of Bi-Curieux, Interlude, Vagabond, and a Stone Fence (Bourbon, bitters, and apple cider).