Spezial rauchbier.


Lord Hobo is offering brunch now and doing it well. Kegs & Eggs every Saturday and Sunday starting May, 29 at Lord Hobo. 10 am to 3pm for Brunch. Then bar service only until 5pm, when they normally open for dinner service.


Brunch (Saturday & Sunday 11am-3pm)
granola, greek yogurt, berries

fried duxbury oysters, sauerkraut, remoulade

charcuterie tasting, cornichons, mustards, toast

2 eggs, any style, home fries, fruit, toast, side

waffles, mclure s maple syrup, berries

eggs benedict, poached eggs, speck, spinach, hollandaise

grilled skirt steak, over easy eggs, foyot sauce, fries

8 oz. Burger, over easy egg, fries

mushroom ragout, poached egg, toast

grafton Cheddar omelette, home fries, fruit, toast, side

egg white omelette w/ veggies, home fries, fruit, toast

frittata, wild mushrooms, tomatoes, spinach

pork belly hash, sunny side up eggs

cuban, braised pork, salami, swiss, pickled veg, fries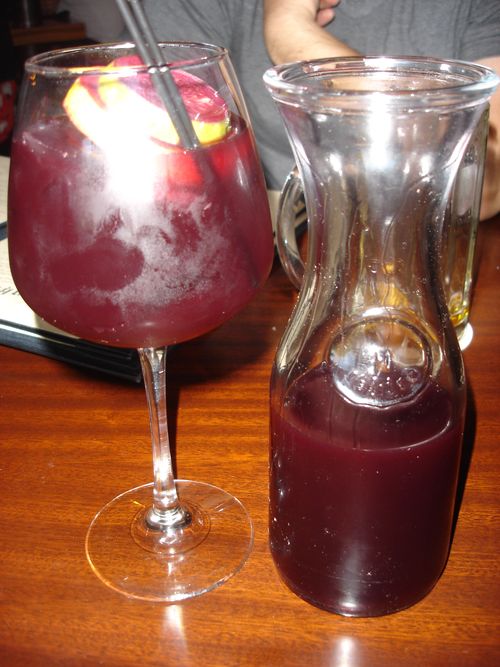 Red Sangria.

They offer tons of entrees featuring eggs like skirt steak and eggs, egg benedict with smoked speck, frittatas, mushroom sautees with eggs... Oh and did I mention beer? 40 taps ready to go with your eggs. Also sangria red and white, mimosas, bloody mary's and breakfast beer cocktails.






Fried oysters with pickled cabbage.







Duck liver pate in the left corner, Vietnamese spiced pork pate right corner, smoked chicken liver in the top center, mustards, cornichons, and a cherry reduction.







Pork Belly Hash with sunnyside up eggs.


My husband Todd got an omelette with home fries and sausage. There was a side of an english muffin, and a few Bloody Mary's and Green Flash West Coast IPA's not pictured either.

Yeah, that's a whole skillet of pork belly with peppers and onions and two eggs on top. This is exactly the right thing after a long night of drinking on a Saturday night. Fatty and meaty pork chunks with runny yolk eggs. A side of sausage and english muffins. Fantastic!

Our friend Tyler, who joined us for breakfast thought that maybe the skillet should have had some potatoes in it. I agreed. It could have handled a starch, but there was enough meat on the pork belly hunks that it was fine as just the way it was.

The oysters were fat bellies and nicely fried, but kind of small. However, they were packed full of flavor and the pickled cabbage strands were excellent.

The charcuterie plate was excellent as well with the cherry reduction, smoked chicken liver pate, and duck liver pate. But I thought the best was the Vietnamese pork. It was so tasty, I could have honestly had a whole plate of just that with the cherry reduction.

I saw lot's of egg's benedict plates being served and I did see the frittata both of which looked excellent.

Kegs & Eggs was great and this kind of brunch is needed for a place that has 40 taps of craft beer.