Lord Hobo has been open for a week now and it has been getting nothing but big praise for the most part from those who have visited the new restaurant so far. I happen to agree with the praise.

Lord Hobo is the new restaurant in Cambridge, Ma. in place of the once famed B-Side Lounge. A former bartender of the B-Side gave the best description of the new bar and restaurant. "If there was a movie made about the B-Side, Lord Hobo would be the Hollywood version of the bar." That's because it's been brightened up, walls painted a muted rustic red, the floor was completely redone, the bar widened and finished with new, beautiful wood, and finished with 30 taps in the middle, and the layout of the room has opened up with the removal of oddly placed dividers and booths from the old B-Side. It's really nice and sterile inside.

We went to Lord Hobo last Monday for the soft opening and had a wonderful time just drinking and sampling the über fresh beers. The Spezial Rauchbier Lager was pouring so good. I drank that pretty much all night on Monday and hung out with some good friends from the neighborhood.

Saturday night we went in for dinner.

A tip for those wanting to try Lord Hobo, go early. Get there early or there will be a line to contend with just to even get in. It's not a huge line or anything to be intimidated by, but getting there early gets you a table right away. The worst I heard anyone has had to wait is 20 minutes. Turn over is good and while you wait, you have 30 beers or a good cocktail list to choose from.

Another good tip is that their wine list offers all choices by the glass with the exception of their reserve list. I find that awesome.


We started with the Truffle Chips. They come with a variety of sauces which we were told change every day. These are perfectly cooked hand cut fries. I usually hate hand cut fries. They are usually too soggy, or cut too fat and big. These were right in the middle of soft, not soggy and crispy. The sauces were a garlic aioli, a vinaigrette, and a sweet and garlicky ketchup. I was more a fan of the ketchup.

The fries also tasted so good with the Spezial Rauchbier Lager. Man that beer is so good and so fresh tasting at Lord Hobo right now. And they give you big mugs of it.


We also ordered a charcuterie plate. It wasn't big or grandiose in it's offerings which happened to be a good thing. It's small but if it were any bigger, ordering dinner might have become a problem.

A simple offering of mustards, Pȃte de Compagne (country pȃte) and duck liver mousse. Simple and delicious.


Then we ordered dinner. Todd ordered the gnocchi with oxtail in parma cream sauce.


I had the Shepherd's pie with braised lamb, root veg, and colcannon.


I have to admit I had a hard time with my entree. Todd's was fantastic. It was super rich, hearty, and delicious. Mine on the other hand tasted amazing, but there were some issues with the meal. It wasn't fresh it was reheated. It's a little too expensive for a reheated meal. The lamb was the key. It wasn't hot. It was served warm, and the braised lamb was not soft because of this, it was stiff. The reason I am so torn about it though was because despite being reheated, it still tasted so good. The flavors were excellent. Next time they should make sure it's so hot and have a warning on the skillet. If it comes in a skillet like that, it should be a dead giveaway that this meal is super hot. Sadly it was luke warm. I can't complain too much though because I ate nearly all of it despite my observations about this meal.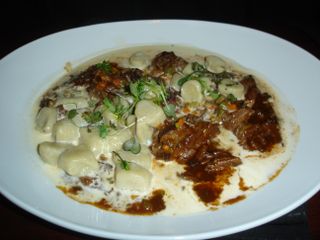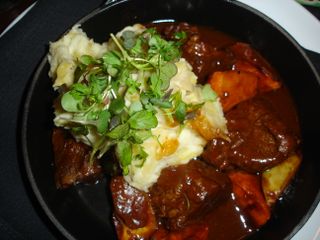 Lord Hobo is a really great new place for Cambridge. Lot's of fresh beer, good food, and the way the room is laid out, it's a comfortable place to hang out.

Honorable mentions for the food are the deviled eggs. I tried them on Monday and they were pretty good. The Maine lobster mac'n'cheese on the appetizers has been a huge hit for a lot of patrons so far. I saw the Seared Local Cod, mahogany clams, potato "risotto", leek, trumpet mushrooms being served to a customer right next to me on Monday. It smelled terrific and looked fantastic. The woman who ordered said it was delicious. And I hear the burger is quite fantastic.

After dinner we tried two Nordic beers we have not tired before courtesy of Daniel Lanigan, the owner of Lord Hobo.


Haandbryggeriet Odin's Tipple. A big 11% abv strong dark ale from Norway. This beer is basically an Imperial Stout. It's so big and strong with rich complex flavors like coffee, molasses, tart cherries, and toasted malts. Yet this thing is so drinkable it's almost like a session beer. It drinks real easy, for something so big. Delicious beer and drank like dessert.


Nørrebro Bryghus North Bridge Extreme. An Imperial IPA from Denmark. This too was a tasty beer. Slightly soapy and reserved on it's hops, Euro-style hop characters meaning more hop flavor than bitterness, compared to giant DIPA's from America. Big sweet malts that were not steel-y that is usually the trademark of a DIPA. I don't have too much depth for this beer though. I ruined my pour of it by mistake. My glass had some weird extra bit of a glass shard hanging from the lip of the glass on the inside of the glass. It looked like a chip and naturally I touched and it broke off super fine shards of glass into my beer. Strange. Just a weird side effect from when the glass was made.

If you haven't been in, make sure you check it out. The waitstaff is super friendly and helpful, the beers are very fresh, the cocktails are good, and the food is fantastic. It's a comfortable place to hang out and will make for a great neighborhood bar and restaurant. All the people who were worried about their precious B-Side can relax. I loved the B-Side and will miss that gouda skillet forever, but this will never be the B-Side and they are not trying to be that. They are a totally different entity and in my opinion for the better. I now have a 30 tap bar around the corner from my house.

Admittedly some of the food and beer prices will shock patrons. Those who are craft beer lovers and fans of Daniel's former establishments such as The Moan and Dove and The Dirty Truth, will understand how amazing the line up of beers are and why they are priced the way they are. A couple of offerings of beers on tap are $10 bucks. But what you are not being told by a tiny handful of hater reviews I have read on Yelp, is that you get a 20 oz. mug of rare beer for $10 bucks. For example Spezial Rauchbier on draft in 20 oz mugs that you will never see on tap anywhere else and the bar doesn't even make money on it at that price. Any other bar would charge the maximum mark up to make the money back and still brag that they have an amazing rare beer. Daniel has it because he loves it. It would be one thing if you were being gouged like Bukowskis, where they charge whatever they want on their beers because they can. And they have admitted to doing so from people who have worked there and still work there now. But no one says you HAVE to go to Lord Hobo and order a $10 dollar beer. It's not like every beer in there costs that. Also none of these complainers made mention of a huge line up of Cantillon on tap which is a pretty amazing feat. Some of these beers are not cheap. But the line up is impressive. And the average cost for beers is more like $6 to $7 bucks a pop. More than the price of Highlife, but it's craft beer people. Not all the beers are priced at $10. A lot of people who were expecting this to be the B-Side revamped will be the top complainers about prices. The folks who love Miller Highlife and a shot of bourbon. Nothing is wrong with that, but you can tell they were expecting the same thing when they walked in to Lord Hobo. Get used to it being a craft beer bar. And they also carry a decent line up of Bourbons too! Boston and Cambridge need more of these kinds of places and bar owners who actually give a fuck about their beers and the quality of beer you are getting.

Something else I noticed in a few reviews on Yelp is that people were saying "Lord Hobo is no Publick House." This is an unfair remark in that Lord Hobo isn't trying to be the Publick House. Just a bar with a solid offering of craft beers, cocktails, wine, and food. Also what is unfair is that most people do not realize that David Ciccolo of TPH also went through the exact same amount of scrutiny in the beginning. When he changed Anam Cara, an Irish bar to a Belgian beer bar. The gripes and complaints about the prices on the beer were the exact same. Now it's revered as one of Boston's best beer bars. It just takes a little bit of interest and knowledge in craft beer to understand what it takes to be a great beer bar in Boston.

Thankfully for once, the majority of Yelp users give Lord Hobo high praise. I happen to agree that it deserves good praise. And seeing as how it just opened, like any new establishment, it will take time to work out any kinks they may have even if there are only few. I have to remind myself to avoid shit like Yelp and Chowhound on a regular basis. It's less and less about being helpful sites for tips and reviews on places and more and more about being a place for people to bitch and complain about the tiniest of details when going out. When one person reviews the Maine Lobster Mac'n'cheese as a disappointing amount of food and not make mention that it's an appetizer course, I have to close the book on that. Toss yourself off a bridge, because you are just looking to complain and take it out on these restaurants and businesses the bitter miserable life you lead thanks to Yelp giving you a place to cry and complain. No one says you can't have an opinion but shouldn't it at least be honest?
Edit: I made a mistake with the number of draft lines Lord Hobo actually has. There are 40 draft lines not just 30 as I made mention twice in this review. Plus a few cask engines and a gravity served cask.

I also went back for the burger, and it was pretty damn good as others have expressed.