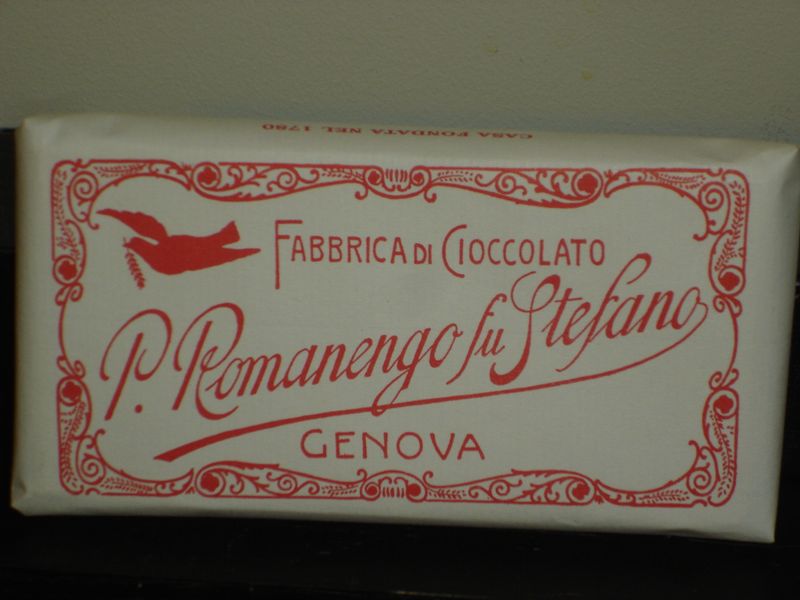 Pietro Romanengo fu Stefano is an exquisite candy shop from Italy that has been around since the late 1700's. I fret to use a generic term like candy shop, but it is truly what they make, only they make gorgeous, world-class candies and confections.

A quick read on their history. Romanengo Past and Present

I was mostly familiar with their Dragée's or sugar coated almonds and their candied fruits that came in amazing wooden boxes for an incredible presentation, from when I worked at Formaggio Kitchen.

They also make these wonderful candied sugars with liquid centers. The centers were flavored with rose, lemon, anise and other wonderful flavors.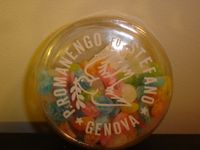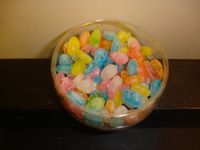 As well as Fondants di Frutta with a multitude of flavors like mint, lemon, Pears, banana and orange to name a few.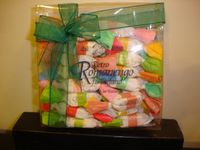 Recently I was given a bar of their dark chocolate. I am mostly a fan of Italian chocolates. The time and care put into their products is seen across the board in all the chocolates from any region in Italy. Knowing what kind of exquisite candies Romanengo makes, needless to say I was very excited about the chance to enjoy their chocolate bars.

Romanengo is from the Liguria region of Italy in the Province of Genoa. The coastal, northern region of Italy.

They are purists about their chocolate. This is important when dealing with high quality chocolate bars. They use Mexican beans for their chocolate, though I am not sure of the varietal currently. Pending information request.
Updated: The information about the beans they use has been given.
The "Messicano" chocolate you are tasting does not really come only from Mexico. It is an old and traditional name used by our company for more than 150 years. The beans actually come from a variety of places, mostly in Central America (if you want, it is not a "single cru", but a "blended" chocolate).
Our philosophy does not place a great importance on origin or on high cocoa percentages but on the process. We use a 1860 mixer with granite wheels (able to bring out all the flavors, which is not the case of modern machines) and we conch the paste for 72 hours (again, in a granite-wheeled machine). And we do not use soy lecithin which would speed up the process but somehow (we feel) spoils the taste.
From their website:


We produce our chocolate by mixing cocoa paste in a traditional old mill (mélangeur) and trough, both with their own granite stones, where the chocolate is "beaten" non-stop for three days and three nights. The granite brings out the chocolate's wonderful aroma.
We never use soy lecithin: Romanengo chocolate is made exclusively from cocoa, sugar and cocoa butter with absolutely no additives (except the milk used to make milk chocolate).
Romanengo makes bars of plain chocolate (62% cocoa) and bars of milk chocolate.
Our range also includes what we call "family" chocolate, once produced in endless varieties and melted to produce a delicious drink. It is made from near-equal quantities of cocoa and sugar but no cocoa butter. The chocolate is available in the traditional "santé" version or flavoured with cinnamon.

Cioccolato Fondente Amaro

Bean Origin: Blended Central American Beans
Varietal: Unknown
Cocoa Percentage: 61%

Ingredients: Sugar, cocoa-paste, cocoa-butter, vanilla flavor. Cocoa 61%

Amaro means dark in Italian. So the name of the bar implies exactly what you are going to get with a 61% cocoa chocolate bar.

The Nose: Light smokiness, rich tobacco, almost like pipe tobacco, tree bark notes as well as rich buttery notes from the cocoa butter, and berries.

Smells like classic semi-sweet chocolate chips. This is not meant to be an insulting characteristic or a generic term, but it rather it has a smell that reminds of me of home when I was a kid making chocolate chip cookies with my mother.

Texture: Smooth when dissolving on the palate, but a little dry and crumbly when bitten into. A little chalky. It melts very slow on the palate. Not as creamy as I had hoped for.

Side Note: I learned a little neat trick when tasting chocolate about the cocoa butter used from a great new friend, Pete Slosberg who used to own Cocoa Pete's and was the founder/owner of Pete's Wicked Ale. The cocoa bean is grown between 20ºN of the equator and 20ºS of the equator.


Cacao is grown plus or minus 20 degrees north and south of the equator. What I was told by the technical people at my chocolate provider is that cocoa butter is softest near the equator and gets progressively harder as you approach the furthest north and south limits. Also, when chocolatiers mention a cacao percentage on the label, it isn't really pure cacao directly from the beans. It's cacao from the beans plus extra added cocoa butter, e.g. a 70% cacao chocolate could be 60% cacao plus an added 10% cocoa butter. The extra cocoa butter will smooth out the chocolate. It's next to impossible to glean how much extra cocoa butter is added, but it's worth asking the supplier directly.

I find this fascinating because this chocolate is very much representative of that factor. It's a slow melt in the mouth and the beans were a blend from around Central America. This would indicate that their beans were produced further away depending upon how much coco-butter they actually used.

Taste: A complex flavor profile. It begins almost tasteless until the bar begins to melt. Once it begins to open up there are rich nutty flavors. Slight roasted cocoa bean taste that doesn't stay on the palate for very long, but pops enough upfront to let you know it's there. Then it really opens up into bright cherries, and has a slow lingering tartness. There are fresh tobacco notes as indicated on the nose and a deep red wine grape taste. The finish is a light smokiness again as indicated on the nose.

Very low bitterness, but definite higher acid content based on that lingering tartness.

To me this is the reason the Italians reign supreme on chocolate making. Even with a higher acid content, it doesn't jab you in the neck from shoddy processing or less care in the fermentation process. Sometimes with lactic acid and the bacterial process in the fermentation can't be helped. But it's those chocolate producers who go to the farms and care to research the issues with their production who make all the difference in the world. Again you are getting tart fruit flavors that are wonderful to eat and experience in the flavors of chocolate versus actual physical reactions to the acid content.

I am stickler about this because once this factor of acid content became apparent to me, it really makes or breaks chocolate bars for me.
An excellent chocolate bar over all.