I just got back on Sunday from an amazing trip to Belgium. It was a quick trip all about beer and business. My husband Todd and his brother Jason were knighted by the Knighthood of the Brewers' Mash Staff (Belgian Brewers' Guild) and kicked off the Belgian Beer Weekend.

These are just some random iPhone images snapped through out the weekend.


Chocolate shops were everywhere in Belgium. Not all of them were great and most were very touristy. But still chocolate, chocolate, chocolate, everywhere you look a chocolate shop. This place was right next to my hotel in the Center of Brussels. Also, some random mural. Seemed interesting amidst all the classic and old buildings.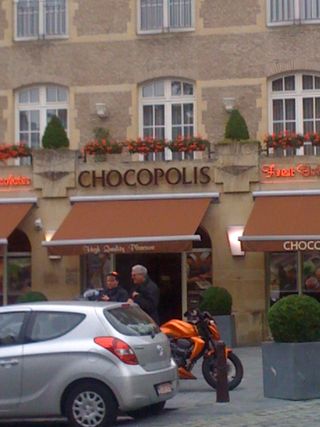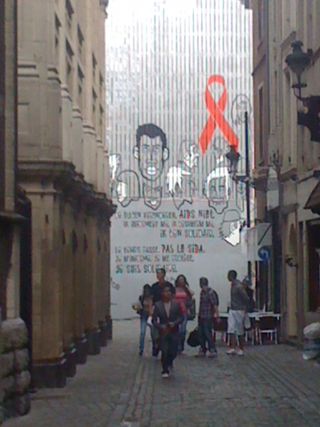 Then we went over to the Grand Place where the festival was being held over the weekend. We just got into Brussels and were hungry and needed a beer. We went to a tourist restaurant called La Roy. It was a good choice. Fresh Duvel's with beautiful pours, rabbit in kriek sauce with cherries on the side and frites, and yes even pig bladder balloons everywhere for some weird tradition.
Beers at Moeder Lambic. Best beer bar in Brussels hands down we went back several times over the course of a few days. Val-Dieu Tripel, Cantillon Kriek, Val-Dieu Grand Cru, De Ranke XX. Grand plat de fruits de mer. Jean Hummler sent over massive plates of seafood.

Jean is also the kindest man in Belgium. Not only was he incredibly generous, but he recommended an amazing chocolate maker in Belgium named Laurent Gerbaud. He even scored some of that chocolate for me when I had no time to get over to the shop myself.

Beers at A La Mort Sabite. Jason got a Rochefort, and I got a large Duvel. Basically two Duvel's in one big glass. Super delicious.
After many beers, a trip back to Moeder Lambic, and a few whiskey-cola's, we then went to a bar called Cafe Bizon on Tom Peters of Monk's Cafe's advice.

After Todd and Jason were Knighted, the next day, we spent a glorious afternoon at Comme Chez Soi with Michel Moortgat of Duvel. We were seated in the kitchen for a private lunch cooked just for use using beer. Those pictures are for another blog post.

We then said our good-byes as the business part of the trip was over. We headed back to the Moeder Lambic for a few beers. Jean kindly treated me to a delicious cup of hot chocolate where he uses a light raw cows milk and 45% cocoa for a super rich and fantastic cup of hot chocolate.

Jean was a little mad at me for not being able to finish it all, but if he had seen the 6 course meal we had just had for lunch, then he would understand.
Some lame couple then ordered a Lou Pepe from Cantillon and decided after two sips they didn't like it. Jean brought the bottle to us. Plus he brought us an Oud Bruin made with chocolate malts and aged in apricot schnapps barrels. Too sour for me to appreciate, but Todd and Jason loved it.
And one last quick snap from my iPhone in Germany at the Frankfurt airport. Frankfurters and potato salad. A delicious snack with whiskey-colas to wash it all down.