Ever since coming home from The Netherlands and Belgium and being on a fabulous beer boat cruise organized by
Bon Beer Voyage
, I have been craving the quiche the fine folks on the boat served us for lunch one day. It was a broccoli and cashew quiche with mushrooms and onions. There was a pumpkin one too, but I figured I would try that another day. They made the quiche with puff pastry dough and I thought that was a fabulous idea. Softer and flakier than the standard dense pie crust.
I am not used to quiche so I didn't know how good this was going to be. It's not something we made in our house when we were kids. There is nothing to it yet it always seemed a little hoity toity. I have had it before and wasn't really impressed with it as it was always solid egg mass in a pie crust. Now that I've had it in the puff pastry, I had to recreate it. And it was made with less egg, so all you could taste was cumin, cashews, mushrooms, onions, and broccoli.
The originals: Pumpkin and Broccoli and Cashew
Mine came out more eggy and more dense than theirs because I used a deeper glass baking dish for it. I had to compensate with more eggs and cream. The recipe I am posting will be for a regular pie pan. So, it will look like the recipe doesn't match some of the the pictures.
Recipe:
Frozen Puff Pastry Crust thawed
1 lbs blanched broccoli
2 tbls olive oil or butter, plus 1 tbls
10 large button mushrooms quartered
2 cloves garlic
1 large red or white onion, chopped
1 cup to 1 1/2 cups dry roasted, salted cashews
2 tsps cumin
4 large eggs
1 cup of cream or half and half
1 1/2 cups of young gouda, shredded
Salt
Pepper
Preheat oven to 350°. Chop broccoli into smaller flourettes. Blanche broccoli in a pot of salted boiling water for 2 minutes and then remove from water and set aside to cool.
Heat skillet on medium high heat with 2 tbls of olive oil or butter. Toss in onions, garlic and stir. Once the onions start becoming translucent, about 5 minutes, stir in the cashews and cumin until they get coated in the oil. Remove from heat.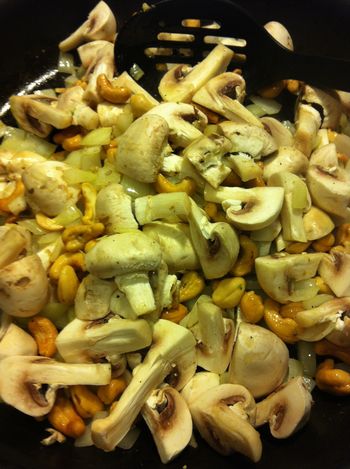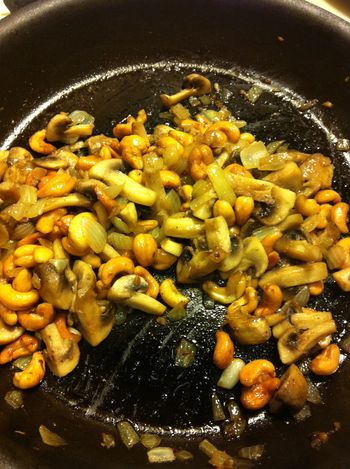 In another skillet add one tbls of olive oil or butter and saute quartered mushrooms until they have shrunk by half and become tender. Remove from heat. Stir together with the onions and cashews.
**In the picture, I sauteed them together but the mushrooms produced a lot of water that did cook off but mellowed the cumin too much. Cook them separately and then add them together.
While the onions and mushrooms cook, roll out puff pastry and fit it inside a butered and floured pie pan with plenty of room left over for crust at the the tops. Take a fork and poke holes at the bottom of the pie pan a few times around the pan.
In a separate bowl, whisk together eggs, cream, salt and pepper to taste, and shredded gouda. Leave some gouda on the side for the top of the quiche.
Take the cooled broccoli and place half of the flourettes in the bottom of the prepared pie pan. Top the broccoli with mushrooms and onions mixture. The cover with half of egg and cheese mixture. Repeat this process and take extra cheese reserved on the side and top the quiche. Pinch down the top of the crust in a wavy pattern and make sure egg mixture is not too high for the crust. Brush the top of the crust with one beaten egg and a tbls of water or milk.
Place in the oven and bake for 45 minutes. To be sure the quiche is done, you want to make sure the center is cooked at least until 165° or 170°.
Let the quiche sit and cool for about 15 minutes. Slice and serve.