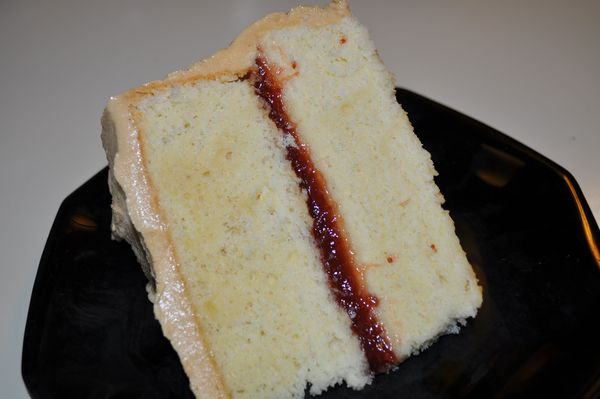 I had a craving for something sweet. I had cake in mind but wasn't sure what kind of cake I should make. At the same time I had a friend blogging about a Peanut Butter and Jelly pie. Then another friend bragged about making a peanut butter cake. 1+2=3. Peanut Butter and Jelly Cake.
I wanted the cake to be super light and fluffy. I found a good recipe for Vanilla chiffon cake. First time making it and it came out very good. Albeit, loaded with technical errors.
Cake:
2 1/4 cups cake flour
1 1/2 cups granulated sugar
1 tablespoon baking powder
1 teaspoon salt
3/4 cup cold water
1/2 cup canola oil
5 pieces raw eggs, separated (eggs at room temp.)
1 tablespoon vanilla extract
1/2 teaspoon cream of tartar
1.1 Combine flour, 1 cup sugar, baking powder, and salt in a mixing bowl then mix well.

1.2 Pour-in the cold water, canola oil, egg yolks, and vanilla extract then whisk until the texture becomes smooth. Set aside.

1.3 Transfer the egg whites in a separate mixing bowl and combine cream of tartar.

1.4 Beat the egg white and cream of tartar mixture using an electric mixer (high speed) until texture becomes fluffy.

1.5 Beat-in the remaining 1/2 cup sugar a teaspoonful at a time and continue mixing until everything is properly distributed.

1.6 At this point, you should have two mixing bowls with different mixtures. Combine the egg white mixture with the egg yolk mixture gradually by folding the egg white mixture in the egg yolk mixture (start with 1/4 of the egg white mixture followed by another 1/4 until everything is fully combined).
1.7. Grease two 9-10″ round cake pan and pour-in the folded mixture equally.

1.8 Preheat oven to 325 degrees Fahrenheit and bake both cake pans for 33 minutes.
Make sure your egg whites are at room temp. for whipping. If they are too cold, they won't make stiff peaks.
My cake had a minor issue of not having the whites and cake batter being blended enough. As you can see upon closer inspection of the cake. The more yellow, the less mixed. I thought I had mixed it up well enough and I was trying not to over mix it. This in turn make the other half with less cake batter deflate a tiny bit once out of the oven and cooling. It was so minor that I flipped it over and made it my base. That did end up causing a slight imbalance in the cake which I didn't realize until later. After putting the top layer of the cake on it would slide a little bit. Should have used the bottom layer for the top layer.
My technical issues explained. Still for an unsightly cake chock full of mistakes, it was damn tasty.
I used a strawberry conserve for the filling, but I feel like a chunky strawberry jam would have been better. But feel free to use any jam filling you like with peanut butter.
1/2 cup butter

1 cup creamy peanut butter

4 cups confectioners' sugar

1/3 cup cream
In a large bowl, beat butter and peanut butter until light and fluffy. Slowly beat in 1/2 of the confectioner's sugar. Mix in 1/4 cup of the cream. Beat in the remaining confectioners' sugar. If necessary, add a little more cream or milk until the frosting reaches a good spreading consistency. Makes enough to frost one 2 layer 9 inch cake or one 9x13 inch cake.
Make sure the frosting is not too stiff or you won't be able to frost your cake. It needs to be very soft and spreadable so as not to pull up cake bits. And don't judge me on my cake frosting abilities. I already know I can't frost a cake for shit. Mostly I don't care if it looks like a gorgeous store bought cake or not. I care if tastes good or not.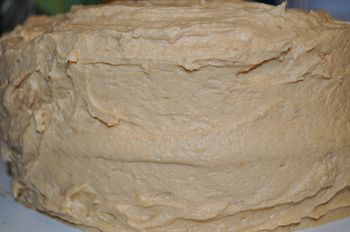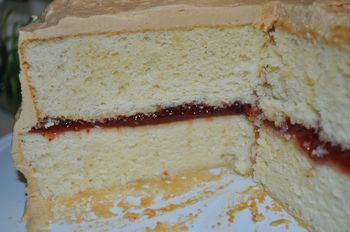 And there you have it. A technical disaster of a cake, but fucking awesome in my belly!